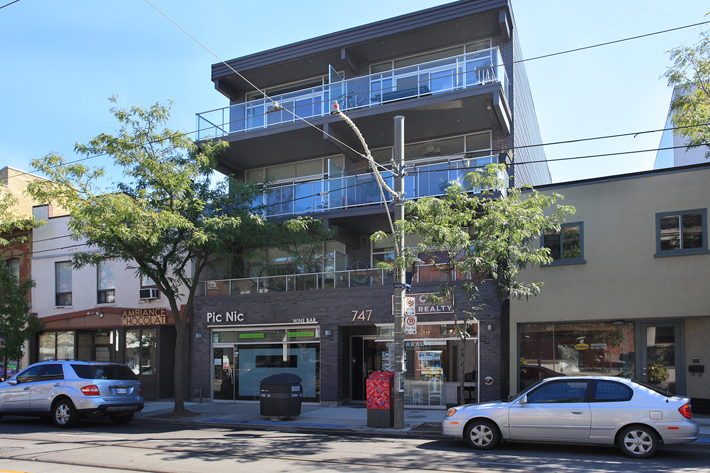 Address: 747 Queen Street East, Toronto (Riverside Neighbourhood)
Loft Style: Soft
Total Loft Suites: 12
Developer: Streetcar
Architect:
Property Management:
Size:
Notable / Historical Significance:

Want to live right in the heart of Riverside on Queen Street East in a boutique loft development? Then Riverside Lofts is your spot! There isn't a more convenient condo building on the east side when you are talking about brunch, dining, shops and cafes you are literally right above them!
Toronto Life Magazine voted riverside as the 'Top Spot To Invest'. The Riverside Lofts offer fantastic layouts and all units have balconies. The TTC Streetcar stop is right at your door step! This is a walkers paradise! No reason to drive anywhere. Here is what the developer has to say about the project: A boutique residence in the heart of the trendy Riverside District, this distinctive building offers lively pedestrian culture, shops, restaurants and art galleries.
Built with the future in mind and using simple yet impactful materials such as iridescent black bricks, the architecture of Riverside Lofts sets the tons for the emerging Queen East Style. Residents enjoy all the offerings of the Riverside District and high quality finishes inside a four-storey boutique building, with 12 suites, ranging from 814 to 1144 sq. ft.
Here's a limited selection of the available units in this building. Please Contact Us for ALL available listings.

No listings found.
Listing information last updated on November 24, 2017
Do you have questions or comments about any Leslieville lofts? Post them here!
comments